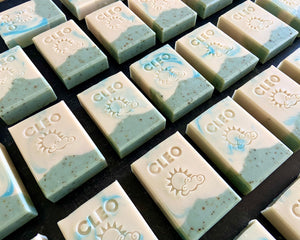 As many of you know… I only make this soap once in a very blue moon. It's inspired by my time growing up in Marin County where I was surrounded by nature.
Mt. Tamalpais has always had a special place in my heart. Several years ago I hiked this grand mountain with my parents. It was a beast of a climb, but we huffed and puffed our way to the top together.
The reward for reaching our destination was an outstanding view that took (what we had left of) our breath away. I often think back to that epic day.
Mt. Tamalpais is scented with notes of fir needle, birchwood and balsam.
INGREDIENTS:
Saponified oils of Coconut, Olive, Haitian Castor, Shea Butter, Cocoa Butter, Distilled Water, Sodium Hydroxide, Titanium Dioxide, Mica, Ground Peppermint, Sage, Alfalfa Powder, Ground Juniper Berry, Fragrance Oils

SUPERSTAR INGREDIENTS:
Haitian Castor Oil (Lwil Maskriti) is high in vitamin E, minerals, proteins, omega 6, and other beneficial fatty acids including ricinoleic acid. I have yet to meet a Haitian that doesn't have a bottle or two of this cultural staple in their home.
NO Parabens, NO Phthalates, NO SLS
Vegan

CLEO Soaps help to remove impurities, rejuvenate your skin, and add a decorative vibe to your home.