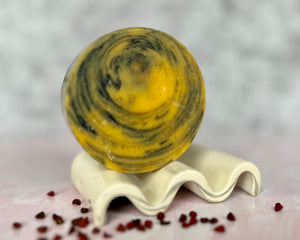 Face of Grace is naturally colored with annatto seed powder and activated charcoal swirls. This deceptively simple bar is scented with a fresh and flowery layered blend of geranium, blood orange and bergamot essential oils. Ahhhh....yes.
INGREDIENTS: 
Saponified oils of Coconut, Olive, Haitian Castor, Apricot, Avocado and Shea Butter. Distilled Water, Sodium Hydroxide, Activated Charcoal, Annatto Seed Powder, Essential Oils
SUPERSTAR INGREDIENTS: 
Haitian Castor Oil (Lwil Maskriti) is high in vitamin E, minerals, proteins, omega 6, and other beneficial fatty acids including ricinoleic acid. I have yet to meet a Haitian that doesn't have a bottle or two of this cultural staple in their home.
NO Parabens, NO Phthalates, NO SLS
Vegan
CLEO Soaps help to remove impurities, rejuvenate your skin, and add a decorative vibe to your home.