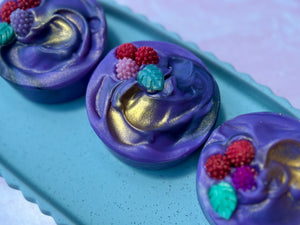 Here is a soap for all berry enthusiasts, appreciators, and lovers. It's deliciously scented with raspberry, black berry and plum. People ask, can you make soap that appeals to at least four senses? The answer is here. 
INGREDIENTS:
Saponified oils of Coconut, Olive. Shea, Mango and Cocoa Butter. Distilled Water, Sodium Hydroxide, Mica, Activated Charcoal, Fragrance Oils
NO Parabens, NO Phthalates, NO SLS

Vegan

CLEO Soaps help to remove impurities, rejuvenate your skin, and add a decorative vibe to your home.