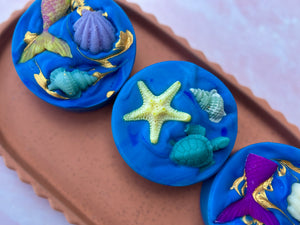 La Siren - The Mermaid (Pronounced: La See-Ren)  - The mermaid La Siren is known throughout Haiti for her beauty and mysterious ways it feels fitting to name this unique new bar after her. Scented with notes of white tea leaves, sea spray, and green lily blossoms, La Siren is something to sing about. And yes.... All of this is soap!
INGREDIENTS:
Saponified oils of Coconut, Olive, Shea, Mango and Cocoa Distilled Water, Sodium Hydroxide, Mica, Fragrance Oils

NO Parabens, NO Phthalates, NO SLS
Vegan
CLEO Soaps help to remove impurities, rejuvenate your skin, and add a decorative vibe to your home.