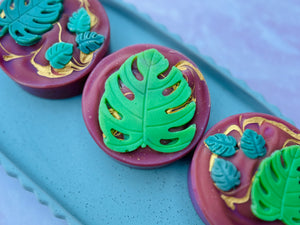 This soap doesn't have to wear tight pants and play guitar behind its head to win friends and influence people. The notes of teakwood, agave, and sea moss
mingle to create a bright, uplifting scent. Enjoy the feeling of mysterious confidence and purpose that only a fresh fruity soap can bring.
INGREDIENTS:
Saponified oils of Coconut, Olive, Shea Butter, Cocoa Butter, Mango Butter. Distilled Water, Sodium Hydroxide, Mica, Titanium Dioxide, Fragrance Oil 
NO Parabens, NO Phthalates, NO SLS

Vegan

CLEO Soaps help to remove impurities, rejuvenate your skin, and add a decorative vibe to your home.