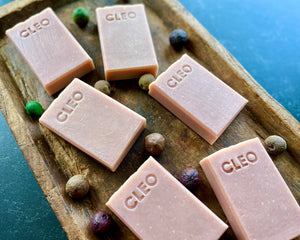 The hot days are upon us like the cicadas in the dogwood trees. But dusk is nearing as the sun sinks below the western horizon. Sit back, relax and bring out the acoustic guitars. Let the music engulf you. This soft pink soap is made with Baltimore's very own, National Bohemian Beer and scented with rosemary and clary sage for the nights of mystery and laughter.
INGREDIENTS:
Saponified oils of Coconut, Olive, Shea Butter, Cocoa Butter and Haitian Castor. Sodium Hydroxide, Distilled Water, National Bohemian Beer, Madder Root Powder, Essential Oils

SUPERSTAR INGREDIENT:
Haitian Castor Oil (Lwil Maskriti) is high in vitamin E, minerals, proteins, omega 6, and other beneficial fatty acids including ricinoleic acid which plays a key role in drawing moisture to the skin. I have yet to meet a Haitian that doesn't have a bottle or two of this cultural staple in their home.
NO Parabens, NO Phthalates, NO SLS

CLEO Soaps help to remove impurities, rejuvenate your skin, and add a decorative vibe to your home.