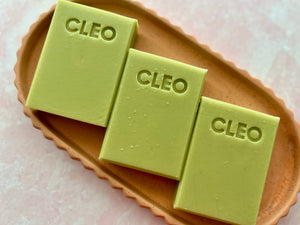 Visually, Aloe Dolly is simple and soulful like a linen shirt but take a deep breath and you'll experience the invigorating kaleidoscopic smell of spearmint and fir needle. The addition of pureed cucumber and aloe vera make this one of the most multilayered and unique soaps in the line. It's an ideal bar for all of your summer shenanigans.
INGREDIENTS:
Saponified oils of Coconut, Olive, Shea Butter, Cocoa Butter and Haitian Castor. Distilled Water, Sodium Hydroxide, Aloe Vera, Mica and Essential Oils

NO Parabens, NO Phthalates, NO SLS

Vegan

CLEO Soaps help to remove impurities, rejuvenate your skin, and add a decorative vibe to your home.