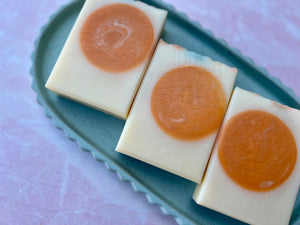 Orange Grove is a bar that's bound to bring a smile to your face. The large orange in the center of the bar will brighten any day. It's scented with notes of mandarin, blood orange and yuza.
So take a second, inhale, and let the fresh smell of this artful bar take you away. 
INGREDIENTS:
Saponified oils of Coconut, Olive, Shea, Mango and Cocoa Butter. Distilled Water, Sodium Hydroxide, Titanium Dioxide, Mica, Fragrance Oils

NO Parabens, NO Phthalates, NO SLS

Vegan

CLEO Soaps help to remove impurities, rejuvenate your skin, and add a decorative vibe to your home.