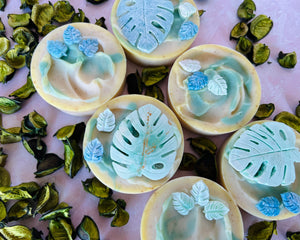 If there is a winner in the Everybody Soap category this is it. Just Add Water is scented with bright notes of succulent, winter berry and camphor. Everybody is attracted. Everybody is inspired. Everybody is serene. Everybody is clean. Just add water and see for yourself.
INGREDIENTS:
Saponified oils of Coconut, Cocoa Butter, Distilled Water, Sodium Hydroxide, Mica, Ground Apricot Seed, Fragrance Oils

NO Parabens, NO Phthalates, NO SLS

CLEO Soaps help to remove impurities, rejuvenate your skin, and add a decorative vibe to your home.