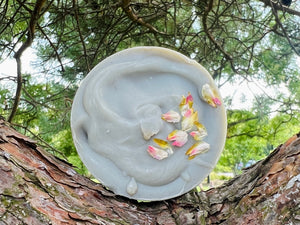 This all-purpose bar is colored with indigo powder and scented with birch, peppermint and lime for a bright and slightly earthy vibe.
INGREDIENTS:
Saponified oils of Coconut, Olive, Shea, Mango and Cocoa Butter. Distilled Water, Sodium Hydroxide, Indigo Powder, Dried Flowers, Essential Oil 
NO Parabens, NO Phthalates, NO SLS
Vegan

CLEO Soaps help to remove impurities, rejuvenate your skin, and add a decorative vibe to your home.