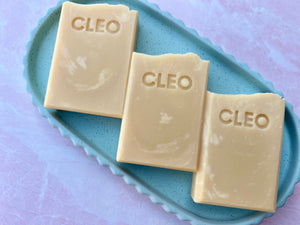 You know that lemony tartness that hits the back of your throat? The one where you let out a little cough because it's just that good?
This bar is like the lemon poppy loaf that makes your eyes roll back - sweet, tart and delicious. The kind that you eat slowly because you know that this is the last piece.
INGREDIENTS:
Saponified oils of Coconut, Olive, Shea, Mango and Cocoa Butter. Distilled Water, Sodium Hydroxide, Mica, Poppy Seeds, Titanium Dioxide, Fragrance Oil 
NO Parabens, NO Phthalates, NO SLS
Vegan

CLEO Soaps help to remove impurities, rejuvenate your skin, and add a decorative vibe to your home.