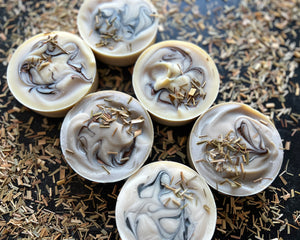 Some of you may being asking, is this a soap named after a brand of rain boots? Hardly the case, although it is like a warm hug on a spring day. This bar is inspired by the London Fog Latte - a hot beverage that soothes, comforts and brings out kindness in almost everyone. True to the drink, the soap is scented with notes of lemongrass, vanilla and cream.
INGREDIENTS:
Saponified oils of Coconut and Cocoa Butter, Black Tea, Sodium Hydroxide, Coconut Milk, Honey, Lemongrass, Mica Fragrance Oils
NO Parabens, NO Phthalates, NO SLS
CLEO Soaps help to remove impurities, rejuvenate your skin, and add a decorative vibe to your home.