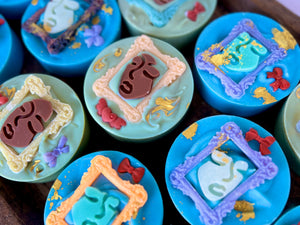 This bar is a celebration of the beauty - inside and out - that we find in the mirror and in the special people we acknowledge today and everyday. Reflections is scented with rich bright notes of Jasmine, Ylang Ylang and Lychee.

INGREDIENTS:
Saponified oils of Coconut, Olive, Shea and Cocoa Butter. Distilled Water, Sodium Hydroxide, Mica, Titanium Dioxide, Fragrance Oil (some bars contain Activated Charcoal) 
NO Parabens, NO Phthalates, NO SLS

Vegan

CLEO Soaps help to remove impurities, rejuvenate your skin, and add a decorative vibe to your home.