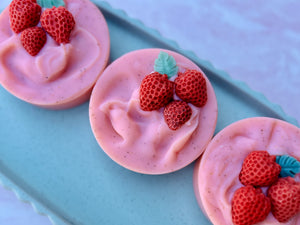 Strawberries are the queen of all berries. They're hearts and they're delicious! This artful
soap
was inspired by a strawberry rhubarb pie that I used to love eating in my younger days. It smells just like fresh strawberries and sunshine.
INGREDIENTS:
Saponified oils of Coconut, Olive, Shea, Mango and Cocoa Butter. Distilled Water, Sodium Hydroxide, Mica, Ground Apricot Seed, Fragrance Oil 
NO Parabens, NO Phthalates, NO SLS

Vegan

CLEO Soaps help to remove impurities, rejuvenate your skin, and add a decorative vibe to your home.