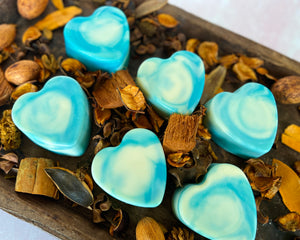 This invigorating bar is scented with notes of lavender, sandalwood, and pine. Like its namesake, Heart of the Sky is a glimpse from the ordinary into what could be. The mind wanders and the body relaxes in gratitude.
INGREDIENTS:
Saponified oils of Coconut, Olive, Palm Oil, Distilled Water, Sodium Hydroxide, Mica, Fragrance Oils

NO Parabens, NO Phthalates, NO SLS
Vegan

CLEO Soaps help to remove impurities, rejuvenate your skin, and add a decorative vibe to your home.