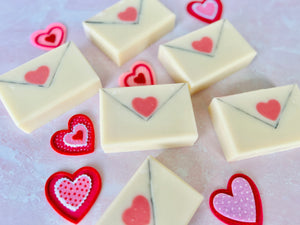 This luxurious bar could be a Love Letter from you to who? Or a Love Letter from you to you? Or from you to only you-know-who? The elegant scent is a combination of pink moscato, citrus peel, and kumquat. Love in the lather, love in the letter. The message is in the soap, who knew?
INGREDIENTS:
Saponified oils of Coconut, Olive, Shea Butter, Cocoa Butter and Haitian Castor. Distilled Water, Sodium Hydroxide, Mica, Activated Charcoal, Titanium Dioxide, Fragrance Oil 
SUPERSTAR INGREDIENTS:
Haitian Castor Oil (Lwil Maskriti) is high in vitamin E, minerals, proteins, omega 6, and other beneficial fatty acids including ricinoleic acid. I have yet to meet a Haitian that doesn't have a bottle or two of this cultural staple in their home.
NO Parabens, NO Phthalates, NO SLS

Vegan

CLEO Soaps help to remove impurities, rejuvenate your skin, and add a decorative vibe to your home.