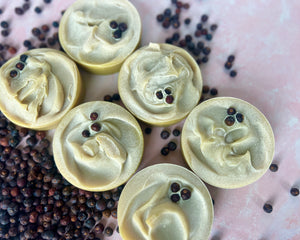 The simplicity of Tree Song brings an energy of both comfort and calm.
I wanted the fragrance to do the talking in this soap. What is she saying you ask?
Well, she's sharing her deep love for fir needle, rosemary and white thyme.
Together the three work in perfect harmony to leave the most lovely scent on the skin. This bar won't disappoint. As if it needed more, juniper berries dropped on the tops to add to the gorgeousness of this soap.
INGREDIENTS:
Saponified oils of Coconut and Cocoa Butter. Distilled Water, Sodium Hydroxide, Goat Milk, Alfalfa Powder, Juniper Berry, Essential Oil 
NO Parabens, NO Phthalates, NO SLS

CLEO Soaps help to remove impurities, rejuvenate your skin, and add a decorative vibe to your home.