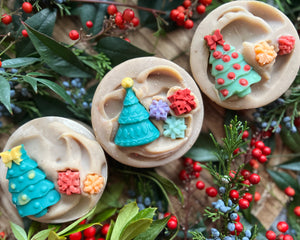 Under the Tree was created to reflect a time of mystery, a time of shorter colder days, a time of pulling together, a time of reinvention, and a time of celebration and quiet joys. This seasonal bar is scented with fir needle, pine needle, and orange to create the perfect vibrations for winter revelry and peace.
INGREDIENTS:
Saponified oils of Olive, Coconut and Shea, Mango and Cocoa Butter. Distilled Water, Sodium Hydroxide, Alkanet Root, Mica, Fragrance Oil 
NO Parabens, NO Phthalates, NO SLS

Vegan

CLEO Soaps help to remove impurities, rejuvenate your skin, and add a decorative vibe to your home.