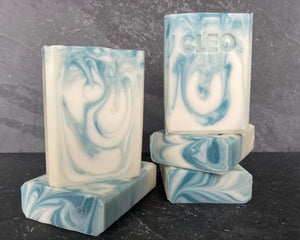 If ever there was a bar for these times this would be it - beautifully invigorating soap and great advice. This bar has quickly become a favorite and with good reason. Deep cleansing inhalations are a much needed frequent reset. The secret here is eucalyptus and peppermint essential oils. They lift the mind, body, and spirit like a cool cup of midnight starlight.
INGREDIENTS:
Saponified oils of Coconut, Olive, Haitian Castor, Shea Butter, Cocoa Butter, Distilled Water, Sodium Hydroxide, Titanium Dioxide, Indigo Powder, Essential Oils

SUPERSTAR INGREDIENTS:
Haitian Castor Oil (Lwil Maskriti) is high in vitamin E, minerals, proteins, omega 6, and other beneficial fatty acids including ricinoleic acid. I have yet to meet a Haitian that doesn't have a bottle or two of this cultural staple in their home.
NO Parabens, NO Phthalates, NO SLS
Vegan

CLEO Soaps help to remove impurities, rejuvenate your skin, and add a decorative vibe to your home.