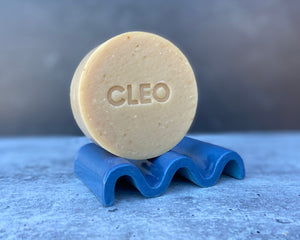 is a face bar made with avocado and pumpkin seed oil. Use this bar to help detox your skin from the natural pollutants that effect us on the daily. This soap is naturally colored with turmeric powder and scented with cedarwood, grapefruit and clove essential oils.
INGREDIENTS:
Saponified oils of Coconut, Olive, Pumpkin Seed, Avocado, Shea Butter, Cocoa Butter and Haitian Castor, Distilled Water, Sodium Hydroxide, Turmeric Powder, Essential Oils

SUPERSTAR INGREDIENTS:
Pumpkin Seed Oil is full of fatty acids, vitamins and minerals.
Avocado Oil is loaded with fatty acids and antioxidants.
Haitian Castor Oil (Lwil Maskriti) is high in vitamin E, minerals, proteins, omega 6, and other beneficial fatty acids including ricinoleic acid. I have yet to meet a Haitian that doesn't have a bottle or two of this cultural staple in their home.
NO Parabens, NO Phthalates, NO SLS

Vegan

CLEO Soaps help to remove impurities, rejuvenate your skin, and add a decorative vibe to your home.