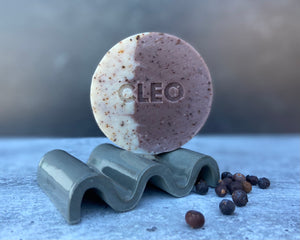 Peaches and Herb could be this bars name. It's a duet! Moisturizing and Exfoliating share center stage in this new soap we're calling, at least for now, Purple Essence. 
Ground juniper berries and rose hip powder clean the skin and remove any flaky patches while a blend of soothing oils including avocado, apricot kernel and meadowfoam leave your skin soft and supple. It is scented with refreshing blend lavender, cypress and juniper berry essential oils. In Purple Essence, moisturizing and exfoliation are reunited and it feels so good.
INGREDIENTS:
Saponified oils of Olive, Avocado, Meadowfoam, Apricot Kernel, Coconut, Haitian Castor, Cocoa and Shea Butter. Distilled Water, Sodium Hydroxide, Purple Brazilian Clay, Ground Juniper Berry, Essential Oils
SUPERSTAR INGREDIENTS:
Ground Juniper Berries offers this bar an extra layer of exfoliating power. 
Haitian Castor Oil (Lwil Maskriti) is high in vitamin E, minerals, proteins, omega 6, and other beneficial fatty acids including ricinoleic acid. I have yet to meet a Haitian that doesn't have a bottle or two of this cultural staple in their home.

NO Parabens, NO Phthalates, NO SLS 
Vegan
CLEO Soaps help to remove impurities, rejuvenate your skin, and add a decorative vibe to your home.