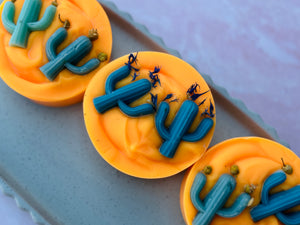 This vibrant orange bar with the little cactus on the side is scented with notes of vetiver, violet and succulent. No spines, no prickles, just handmade soap for a beautiful bath.
INGREDIENTS:
Saponified oils of Coconut, Olive, Shea, Mango and Cocoa Butter. Distilled Water, Sodium Hydroxide, Mica, Dried Flowers, Fragrance Oil 
NO Parabens, NO Phthalates, NO SLS
Vegan

CLEO Soaps help to remove impurities, rejuvenate your skin, and add a decorative vibe to your home.