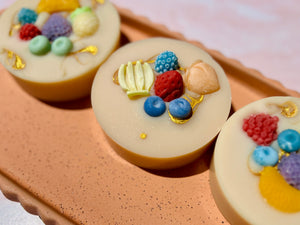 This one is a flavorful blend of passionfruit, guava and starfruit. Island vibes through and through. Each bar has a lovely cluster of fruits to make bathing a colorful and festive celebration.
INGREDIENTS:
Saponified oils of Coconut, Olive, Shea, Mango and Cocoa Butter. Distilled Water, Sodium Hydroxide, Mica, Titanium Dioxide, Fragrance Oil 
NO Parabens, NO Phthalates, NO SLS

Vegan

CLEO Soaps help to remove impurities, rejuvenate your skin, and add a decorative vibe to your home.