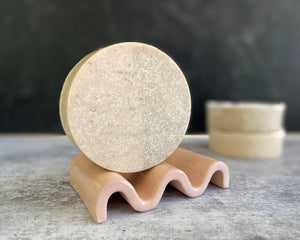 Is loaded with caffeine and salt. Both of these ingredients gently exfoliate and detoxify while the minerals nourish your skin, leaving you feeling renewed and refreshed. Although it may seem counterintuitive, these salt bars are not at all drying; quite the opposite - they draw moisture out of the air and to the skin. This rock hard bar will last a good while too! 
Grounded is scented with cedarwood, lime, spearmint, lavender and peppermint essential oils. The ground coffee beans add to the appearance of this stunning bar.  The result is refreshing and unique and certain to appeal to all genders and moods. 
INGREDIENTS
Saponified oils of Coconut and Almond Oil. Distilled Water, Sodium Hydroxide, Ground Coffee Beans, Mica, Titanium Dioxide and Essential Oils
NO Palm Oil, NO Parabens, NO Phthalates, NO SLS
Vegan

CLEO Soaps help to remove impurities, rejuvenate your skin, and add a decorative vibe to your home.