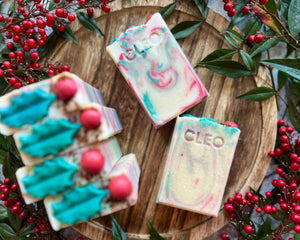 Holly & the Ivy - it's winter joy in a bar. Here's a way to celebrate the season, cleanse the body, and refresh the soul. The scents of spruce, plumeria, mint and balsam pine take the mind to snowy days gone by and prepare skin for the hours ahead. 
INGREDIENTS:
Saponified oils of Olive, Palm, Coconut and Cocoa Butter. Distilled Water, Sodium Hydroxide, Mica, Juniper Berry, Fragrance Oil 
NO Parabens, NO Phthalates, NO SLS

Vegan

CLEO Soaps help to remove impurities, rejuvenate your skin, and add a decorative vibe to your home.