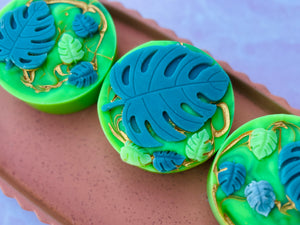 The mighty monstera plant was the inspiration for this vibrant green and black
soap
. A woody blend of balsam, birchwood and fir needle bring the forest to the bath.


INGREDIENTS:
Saponified oils of Coconut, Olive, Shea, Mango and Cocoa Butter. Distilled Water, Sodium Hydroxide, Mica, Activated Charcoal, Fragrance Oil 
NO Parabens, NO Phthalates, NO SLS

Vegan

CLEO Soaps help to remove impurities, rejuvenate your skin, and add a decorative vibe to your home.