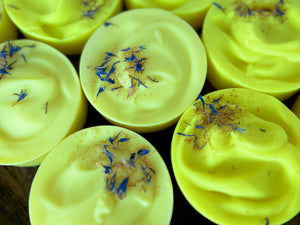 This soap is all the intersection of nostalgia and bright futures. Allow the scent of white lily and key lime lift the spirits and fill the soul. Ingredients from the past combine to show the way forward. Calming and refreshing and…sweet!
INGREDIENTS: 
Saponified oils of Coconut, Olive, Shea and Cocoa Butter. Distilled Water, Sodium Hydroxide, Dried Cornflowers, Mica, Jojoba Beads, Fragrance Oils
NO Parabens, NO Phthalates, NO SLS
Vegan
CLEO Soaps help to remove impurities, rejuvenate your skin, and add a decorative vibe to your home.