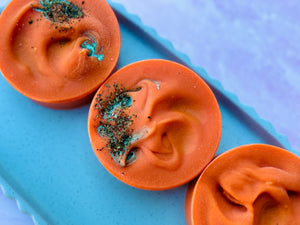 Let the garden party begin! Like its namesake this summer soap is fresh and alive with an herbal blend of thyme and basil for a generous lift of the spirits. In addition to the natural oils and butters that make CLEO soaps smooth and luxurious, this one contains annatto infused olive oil. The feel is inviting and uplifting. The lather is rich. In the groove garden of life this soap stands alone. 
INGREDIENTS:
Saponified oils of Coconut, Olive, Shea, Mango and Cocoa Butter. Distilled Water, Sodium Hydroxide, Dried Mint, Annatto Seed Powder, Fragrance Oil
NO Parabens, NO Phthalates, NO SLS

Vegan

CLEO Soaps help to remove impurities, rejuvenate your skin, and add a decorative vibe to your home.