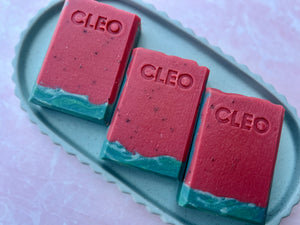 What's the first thing I think of when I hear the words Summer Time? Why, watermelon, of course! This

soap

was inspired by my childhood years in New Hampshire. My brother and I would sit on the front steps eating up pieces of watermelon and spitting seeds all over the place. It was a joyous and innocent time. Enjoy the luxurious feel of this bar and the slight exfoliation that comes through due to the poppy seeds. 
INGREDIENTS:
Saponified oils of Coconut, Olive, Shea, Mango and Cocoa Butter. Distilled Water, Sodium Hydroxide, Mica, Poppy Seeds, Fragrance Oil 
NO Parabens, NO Phthalates, NO SLS
Vegan

CLEO Soaps help to remove impurities, rejuvenate your skin, and add a decorative vibe to your home.