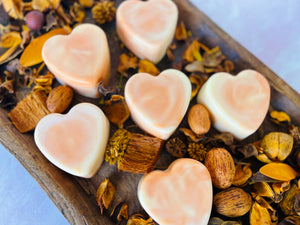 Rejuvenating. Uplifting. Welcoming.   
Let the apple blossom, bergamot, and African tamarind take you to a simpler time - a sweet time -  when a spring afternoon could be spent in an Italian coffee shop, talking, laughing and reminiscing. A soap to leave you feeling clean, refreshed, and relaxed.


INGREDIENTS:
Saponified oils of Coconut, Olive, Palm. Distilled Water, Sodium Hydroxide, Mica, Fragrance Oil
NO Parabens, NO Phthalates, NO SLS

Vegan

CLEO Soaps help to remove impurities, rejuvenate your skin, and add a decorative vibe to your home.