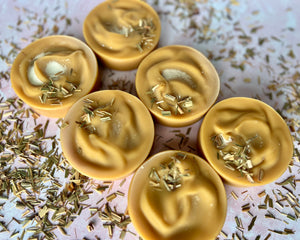 Yes, you can hold spring in your hand. It's right here in Sunny Gaze, a vibrant golden bar topped with dried lemongrass and scented with lemongrass and litsea essential oils. Sunny Gaze for the warmer daze...

INGREDIENTS:
Saponified oils of Coconut and Cocoa Butter. Distilled Water, Sodium Hydroxide, Coconut Milk, Yellow Brazilian Clay, Dried Lemongrass, Essential Oils
NO Parabens, NO Phthalates, NO SLS
Vegan

CLEO Soaps help to remove impurities, rejuvenate your skin, and add a decorative vibe to your home.