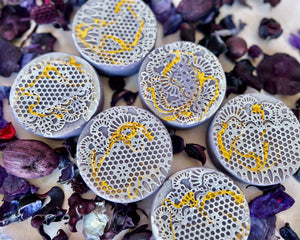 The design for Vintage Lace was inspired by the table runners that my mom would bring out for special occasions. This bar is scented with notes of amber, sage and baby's breath to bring the rich floral memories to life in a quietly fresh and luxurious soap.
INGREDIENTS:
Saponified oils of Coconut, Olive, Shea Butter, Cocoa Butter, Mango Butter. Distilled Water, Sodium Hydroxide, Mica, Fragrance Oil 
NO Parabens, NO Phthalates, NO SLS

Vegan

CLEO Soaps help to remove impurities, rejuvenate your skin, and add a decorative vibe to your home.