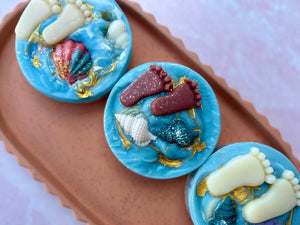 Someone has been walking on the 
soap
, the footprints are right there on each bar! These classy oddballs are scented with an oceanic blend of dewy rose, green lily blossom and melon for a fresh invigorating feeling every time.
INGREDIENTS:
Saponified oils of Coconut, Olive, Shea, Mango and Cocoa Butter. Distilled Water, Sodium Hydroxide, Mica, Titanium Dioxide, Fragrance Oil 
NO Parabens, NO Phthalates, NO SLS

Vegan

CLEO Soaps help to remove impurities, rejuvenate your skin, and add a decorative vibe to your home.